Trading Journal Spreadsheet Reviews
Choose a keyword filter, or scroll down to view them all

"Very complete piece of accounting software for those who wish to go beyond retail software standard trading activity sheets. Had a little glitch in the program and Greg followed through expeditiously and pointed out my problem. All running smooth and great service which is hard to find in our PC culture today. You won't be disappointed in purchasing this software to help track your trading." 
William Cooper
Ho Chi Minh City, VIETNAM

"This product will track my forex trades…WOW…I have been looking for a product that will do this. I had a few questions once I started to log my data and Greg was very prompt in helping me out…Excellent customer service!!!"
Thomas Schafer
Forex trader
USA

"If you're not happy with your trading results and are not fully documenting and analyzing your trades, then starting a trading journal is essential. I've been a customer of Greg's for many years, and Trading Journal Spreadsheet is the standout tool in trade tracking and analysis.  Excellent value for money and great customer support!"
Stuart Young
Founder of Global Trading Tools
and Online Brokers Australia
Australia

Hi Greg!
I am really getting better at trading. So much so, that my trainer just asked me to lead a live trading room for the London Time Zone. I am really excited about that. Must be doing something right. Your spreadsheet really helped me to focus and keep track of all the details to become more accurate, and know where I can improve. 
Thank you so much for your product and service!!
Steven, in Germany.
Steven Fassler
ForexTrader
GERMANY

"After buying and using Greg's TJS, I am very happy with my choice. It is very comprehensive in terms of reporting and statistics, easy to use, and quick to learn. Greg does a great job in explaining everything in details in his website, and links to important tips and tricks are provided inside the spreadsheets.
Greg  was very kind and patient chatting live with me when I was deciding whether to purchase. I wholeheartedly recommend Greg's spreadsheet!"
Skerdi Kostreci
USA

"Hi Greg, I wanted to drop you a note to congratulate you on your exceptional product. The visual aspects, functions, and layout are superb. I have now mandated the TJS to be used by our company advisors.
Our company paid a programmer to create a trade spreadsheet for internal use and the cost was 30 times more and does not compare to your trade spreadsheet. 
Thanks again Greg for the great product and keep up the outstanding work."
Scott Schaffer
Certified International Trade Advisor
Emitec2000

"Greg, You have created an excellent product!
As an elite swimmer, I'm a true believer in documenting my results. It is my firm belief that in order to achieve success, one not only needs to spend many hours training and becoming expert in their field but they also need to be extremely metric driven/detail oriented. — You bring in all the necessary tools to help us navigate through our own trading emotions.
You have unequivocally developed the best trade tracking analysis tool and I am confident that traders looking to increase their overall performance and forecasting should use TJS".
Randall Bal
Olympic swimmer
USA

First-Class Support! I had a problem with the spreadsheet. I contacted Greg, who patiently, in a very clear and professional way, examined and narrowed down the cause. The problem was…. WIN language settings in my laptop!
Now, the spreadsheet works like a dream! I highly recommend TJS to anyone who takes trading performance seriously! Happy trading 

Piotr Wieczorek
Futures Trader
POLAND

"Hi, My trading became finally profitable after using your product. Tracking is the only way to improvement.
I was able to filter out the times where I wasn't profitable and cut the crap out."
Thank U Greg!
PH. Caenen
Trader
Belgium

"Developing the correct mindset for trading can be one of the toughest aspects of learning how to trade options. If you want to improve your trading, then the Trading Journal Spreadsheet is a great tool to compile and analyze all your data in a single space."
Patrick provides an in-depth review of the Trading Journal Spreadsheet at the Naked Options Trader, his site on learning options trading.
Patrick Smith
Author of the Naked Options Trader
Texas, USA

"I have been using your product for a while now and have found it Excellent. It really brings the Van Tharp thinking together in a practical way. It has focused my trading in a way that none of my other applications has. I am very happy with it.
Patrick Ryan
Ireland

"The TJS provided by 'Trading Journal Spreadsheet' is the best software I could find after thorough research. It has all the needed contents for blending together: planning, scenario models, and journaling – all in detail. It is a low user threshold and excellent service that makes it my most precious tool (aside from my Trading Plan).
I guarantee that everyone that combines and commits to a Trading Plan and this Trading Journal Spreadsheet tool will make huge leaps in performance after only a short period."
Pål-Harald Uthus
Chief Market Analyst
nor Securities
NORWAY

"Thanks Greg, for creating the ideal vehicle that makes the capture and accessibility of crucial learning and bad-habit correcting data – so easy. This is quite simply the most effective and invaluable trading tool that I have ever encountered.
Thanks also for the exemplary after-sale service and support. Your product is a winner and now I'm beginning to feel I can become one too!"
Mike Ward
Market Trader
CANADA

"Hi Greg, I just wanted to write and thank you for the excellent spreadsheet you have developed, it has been a tremendous help in my trading. I have pinpointed exact changes that I needed to make, simply by examining the "tracking" sheet, and I've seen exactly how to maximize my system itself.
This spreadsheet is the best, most professional sheet I have ever seen or used, and I truly thank you for your excellent work in this. Thank you again, Greg!"
Mike Cleveland
Forex Trader
USA

"I can't say enough good things about it, how I've used it, and how it's helped me. Thank you for creating such a terrific product! "
Michael is the founder of Chart Your Trade, and has taken the time to write a very comprehensive review of the Trading Journal Spreadsheet.
Michael Lamothe
Founder of Chart Your Trade
New York, USA

"What an excellent product… As someone who has been trading for over 10-years now, I have to say that this is the best value for money trading spreadsheet that I've come across. I really love the Expectancy Formulator. That page is addictive. You really should raise the price!!!"
Lance reviews one of the first TJS versions (from 2008) on YouTube … while discussing the importance of trade journaling.
Lance Beggs
Author of the YTC Price Action Trader
Owner of Your Trading Coach 
AUSTRALIA

"I think the TJS is excellent. I have been using it for some time. For a relatively small trading investment it will prove invaluable.
It will show you what areas are profitable or non-profitable, and therefore allow you to address them.
It is also a good psychological tool, helping you to not become paralyzed in making proper decisions or make emotionally distorted bad ones.
Also, having talked to Greg Thurman (the TJS's developer), I must say he provides very good support for this product."
Kevin Loughlin
Trader
United Kingdom

"Hi everyone… I just wanted to pass on some information about a really great trade log made by Greg at TradingSpreadsheets.com. I had just finished creating a database that I was quite happy with but someone suggested I look at that site. When I did, I realized my database would never be able to provide the functionality already available in the spreadsheet.
Anyway, I just wanted to pass along the recommendation. I've copied Greg on this email if you have any questions. He's extremely helpful and responsive."
Kelly Knight-Pellas
Trader
USA

"Thank you Greg for putting together one of the best Trading Journals I have had the pleasure of using in over 10 years trading.
In our live Trading Room we utilize the Trading Journal to record our daily trade results. With a quick glance you can highlight what trades are working best for a particular market and easily make that your major focus for higher probability trading.
There are so many great features to your journal, myself and our trading room members are enjoying the benefits where it counts, the bottom line – PROFIT!"
Kam Dhadwar
TheTradingFramework.com
UNITED KINGDOM

"I have made several entries of stock purchases and it is very easy. When I first got the spreadsheet I was confused, However, I asked for help – and I received immediate help – the problem was resolved and now I am off and running. With this kind of help and assistance for a small price – HOW CAN YOU GO WRONG."
Joseph Bendzinski
USA

"All I can say is that I do not know how anyone could trade without Greg's trading journal. It shows you where you have an edge and where you do not.
This includes many things such as what time of day you will have your best trades, what entry strategy works best, what exit strategy works best, and even what chart timeframe you take the best trades on. Greg has been most helpful and prompt to call me if needed.
I would say that it was money well spent to improve my trading."
Jeff Horn
USA

"The TJS is the best trade tracking and analysis tool I have ever come across.
It not only allows for the standard tracking information that can help you evaluate your performance, it also has features for forecasting what if scenarios. This can increase your confidence in using leverage, and help pinpoint under which conditions to use it.
I highly recommend it."
Ed Abreu (ProTrader Ed)
New York, USA

"This is by far the best trading journal/spreadsheet I have seen. I have been trading since 2000 and have been a trading educator since 2008. I stress over and over to my students the importance of keeping a good trading record so they can analyze where the strong and weak points are in their trading.
I have recommended this product to my students and I don't ever do that. This is money well spent!"
Trisha
Futures Trading Educator
Easy Emini Trade
USA

"Very nice work: combines Elegance, Beauty, and Utility.
That's a 3R win."
Dr. Ken Long, DM, MSSM
Tortoise Capital Mgt
USA

"Greg's Trading Journal Spreadsheet is exactly what I was looking for. I knew my performance was pretty good but after reviewing the analytics on the TJS spreadsheet, I was able to confirm that my performance metrics were actually – really good – and then I was able to easily share my metrics with my subscribers.
Greg's product will help all traders and investors identify their strengths and weaknesses and become better traders." 
Don Roth
Founder and CEO Smart Chart Investor
California, USA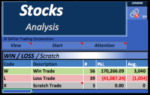 Hey Greg,
Just dropping a line to say that I'm totally in love with your TJS Spreadsheet. What a bargain for the amount of loaded features you get. This is truly a work of art that all traders should be using. Please feel free to use me as a reference or testimonial – I use this every day I trade, and for every trade!
PS – Not to mention your outstanding support when I have questions 🙂
Thank you!

Diane Simmons
Futures Trader
USA

Since 2010 I have been using TJS on a daily basis. As a prop-trader I have to perform at my best every day and without doubt TJS helps me do this.
Greg has put together one of the absolute best Trading Journals available. Do yourself a favor and get the product that meets your needs, and see the improvement for yourself.
Dean Kleb
MarketTraders.co.za
SOUTH AFRICA

"I have used TJS since 2014 and I love it. For traders to become profitable, logging trades and journaling are critical components. Without knowing the information logged in TJS, a trader can't know how his or her strategy is performing. We recommend Trading Journal Spreadsheet to all of our members." 
David Craig
Traders Info Hub
Illinois, USA

"I would like to take a moment to thank you, I mean REALLY thank you. This is a great product for ANY trader. I am a Forex trader actively trading on 3 or more time frames every day. This product allows me to easily analyze the results from each time frame in an instant, and the Expectancy tool is exceptional.
I am also a trader coach, and above all else, we stress to traders the importance of consistency… this product allows a trader to easily enter all of the information related to any given trade, and track the results in real time which aids in error correction and quickly identifies where a trader is consistent… good or bad. Kudos!"
Colin Jessup
Forex Trading Coach
CANADA

"Thank you Greg. Every now and again we can be lucky enough to part with our hard earned money and be happy about it. Not only are the spreadsheets you created excellent and easy to use, your customer service is top shelf. I am absolutely confident that this new tool that I have in my arsenal of trading weapons is going to pay for itself many times over. Thanks Mate."
Brendon Cordang
Market Trader
AUSTRALIA

"I appreciate your time and work that went in to creating this spreadsheet! It truly is an exceptional value! I am not a savvy Excel user, though I can navigate through this product with ease! It's an outstanding resource for optimization of one's strategy/methodology.
Furthermore, the customer service and support is impeccable!"
Angela Heil
Forex Trader
USA

Read how an Amazon customer came across a trading book by internationally known author and president of the Van Tharp Institute, after using his new TJS spreadsheet.
Duncan "Sailor Dunc" McLean
Amazon Customer Review
CANADA

"My TJS Trading Journal is already increasing my profits by showing me what to do more of, and what to do less of. All I have to do is type in my trade numbers and my strategy code words, TJS then automatically does all the math to show me what is working (and exactly how well), and what ain't. When I stopped doing the bad things, and increased the good things, My profits started to improve.
The email support is very prompt and very effective. Only buy this product if you want to improve your trading accuracy — toot sweet! (That's my bad french for "Right Now")."
A. G.
USA
The reviews below are not filtered.
Let's just say there are too many, and we prefer spending time chatting with you, and taking care of business!
"Your spreadsheet is fantastic. I am using it to build up the slides we are doing for our trading plan and journal webcast. Just letting you know that you have a great program and to keep doing what you are doing."
~ Mike Arnold, Chief Strategy Officer at TopstepTrader … USA
---
"Hi, I'm a big fan of your spreadsheet. Your product is great (to say the least) and it is very affordable and your response to customers (me) has been terrific, so I've developed a high respect for you and your company."
~ Randy Riley … USA
---
"Very pleased with this product. I drifted from one home-made spreadsheet to another, but this is something much different, it's very comprehensive and I intend it to be the nerve centre of my trading business. Thanks very much Greg for sharing it. Any serious trader should have something like this. 
~ Bobby Fielding … UK
---
"I LOVE THE SOFTWARE!!! I put in all my 2011 trades and it's amazing to see all the analytics and statistics. It's already helped me revise my trading strategy."
~ Steve Miller … USA
---
"I have used many different trade tracking programs over the 20+ years I've been trading and have never seen anything as powerful, well designed and valuable to my trading as TJS. Thanks so much for your dedication to my success."
~ J.C. … USA
---
"Hi Greg, I just purchased the trading worksheets you've developed. I trade physical Natural Gas and physical Western Power markets…I'm very impressed that your sheets have the ability to easily integrate my markets (volume and size) to analyze my trading performance. This is simply incredible as physical power and gas markets can be ugly to track. I felt compelled to thank you! I've been a trader for about 8 years…and all of the areas/sections (from execution to the psychological side) have been thought out SO well…it's impressive. I'm happy I've stumbled upon this. Thank you very much for your hard work."
~ Jason Miller … USA
---
"Thanks Greg for a fantastic product! This is by far the most important aspect of trading. Documenting your trades and trading behaviour will enable you to identify very quickly where you are going wrong and what you are doing right. Greg's spreadsheets have all you need to monitor your performance from which to develop your trading success."
~ Peter Jarvis at forexmind … UK
---
"Just want to say what a brilliant tool…! I have limited use of Excel and this has saved me a whole lot of time trying to create something that frankly would not have stood up to this. A very valuable tool and easy to work through, some great work. Thanks for making this."
~ Bryan Wiggins … UK
---
Not only is the spreadsheet simply a good excel programming value for active traders but the trading philosophies evident in the particular measures you supplied to track were VERY influential on me; Tharp analysis, position sizing, reward/risk, expectancy, etc. I shudder to think what shape my trading account might be in a year later if I had not been inspired to get my brain around those ways of looking at ones experience and using the mathematics for decision making.
There are lots of glossy little products and "courses" available on line – your quiet little "spreadsheet" offering says it all and is hence GREAT value. Of course it hasn't saved me from periods of draw-downs but thanks to better risk management even these are more like water off a ducks back!
~ Duncan McLean … CANADA

---
"This spreadsheet offers all traders, novice and advanced, the opportunity to not only record all of your trades, which everyone knows is vital to success, but also the opportunity to learn from your trading style. You can quickly see which trades are more successful, and which ones tend not to work out. Overall, this is a fantastic product and definitely worth the investment!"
~ Keith Elliott … USA
---
"What can I say – Should have had your spreadsheet years ago!… Having all this data right in front of you is simply amazing. I kept a log in excel previously but it just didn't have this clarity and this no BS overview. I just love the way you can see which market / strategy / timeframe you make most of your money. I am sure that will show a few trends in a few months time."
~ Oliver Ockerlander … AUSTRALIA
---
"Greg, I would just like to say that your product is absolutely brilliant. I have been trading for over two years now and still consider myself a novice but I'm getting there. Your product has proved to be a vital ingredient that has been missing for me. Everybody talks about strategies, psychology and getting your trading plan written up. Well I have to say an accurate measurement system is probably one of the most important ingredients of all. I actually paid someone over three times the price of your product to design an excel spreadsheet for my record-keeping, but that proved to ba a bad idea, because that programmer had no real understanding of how markets work. Anyway, suffice it to say, your personal service/back-up and product is one of the best investments I've made in my trading career to date. Thank you."
~ John Buckley … IRELAND
---
"After reviewing your slideshow and looking at the detail that you have put into this trading log – it's just the journal I've been looking for. The depth of information that's at my finger tips will help me become a better trader and understand my mistakes. The thing that impressed me most was your vary prompt response to my question about the product over the weekend. I like customer service. Thank you Greg"
~ Sid Sali … CANADA
---
"Greg, this software is beyond brilliant. I have done SO many spreadsheets for my own trading but was never satisfied with its tracking capabilities. I came across yours and have begun using it eagerly. I love the drawdown table. I love the expectancy curve. Actually I love the whole package. Worth the money in spades. Well done Greg!"
~ K.C. … AUSTRALIA
---
"This is an excellent investment. The cost is very minuscule compared to the product quality and features. I would highly recommend to simply buy this without second thinking. The product will definitely make you a better trader and put discipline in documenting your trades. On top of this, you have Greg to provide unlimited support as well – this kind of service is invaluable."
~ Subramani Kottlingam … USA
---
"So far, I have to say AWESOME. You are truly amazing. Thank you for sharing your knowledge with others. This is such a valuable tool that it deserves to be linked into and talked about all over the trading community. Next, I wish to say your customer service exceeds expectations – First class help and service. Many many thanks."
~ N.G. … AUSTRALIA
---
"I spent a few hours designing my own spreadsheet before deciding that someone must already have come up with something better than my attempt, and so you have. The Trading Journal Spreadsheet (spread betting version) is by far and away the best such journal I have found. TJS is a great product. I can keep accurate records and see at a glance all the vital info I need."
~ C.K. … UNITED KINGDOM
---
"When a trader develops to a level where they finally realize the need for proper journaling, tracking and analysis, the value of this product becomes painfully obvious. To try designing something that would come even close to this product would be beyond the scope of most people. For someone qualified, the work and time involved could not possibly be justified let alone the fact that they probably don't have the trading experience or knowledge to incorporate the necessary features. Without question, this is excellent value for money and a must for any trader wishing to treat their trading as a business. Many thanks."
~ Paul Terbizan … AUSTRALIA
---
"A must have for people who are trading stocks, futures or currencies. Helps improve your profitability by seeing what is working and what is not working. Also, the company is very responsive to customer needs and wants and gets back to you with answers to your questions in a timely manner. I would highly recommend this product to anyone."
~ P.S … USA
---
Posted on TradingApples.com website: "…I just wanted to share if I may, I have found a trading spreadsheet that I think worthy to be checked out. I've also bought a copy of this spreadsheet because it was designed by a full time trader. It contains a lot of features that will help me to further analyze my trades."
~ DeeBee
---
"When I finally decided to get serious about tracking my trading progress, no other solution on the market even came close. The attention to detail is remarkable – – it's clear this was written by a seasoned trader. And the level of support offered by the developer makes this purchase an easy choice."
~ Jason Pollack, USA
---
"One of the most important aspects of trading is simply, having a Trading Journal. Greg at TradingSpreadsheets.com has what you need – a very powerful yet intuitive spreadsheet even for the most basic Excel users like myself. Greg is also quick to respond to any questions you may have."
~ S.L. … USA
---
"Came across this spreadsheet in a search for a trading log; I read the testimonials — all positive — and I could NOT believe ALL the info. this sheet can impart!! Keeping track is something I have not done other than on paper, but that doesn't mean anything other than tree killing in the long run! With this spreadsheet, it actually provides you with information you CAN USE and keeps you focused. Thanks Greg!"
~ S.G. … USA
---
"I really like the way you have integrated risk management ('R" multiples) into your product, as this will be a constant guide and reminder to people such as myself, who too frequently tend to over commit capital to a trade. Thanks for a wonderfully useful product."
~ Gale Nelson … USA
---
"Love it. The analytical feedback I get from compiling my trade stats on this spreadsheet is motivational. Helps me identify strengths and weaknesses in my trading disciplines. Helps me develop and track trading goals and gives useful feedback for each trading system I use."
~ D.M. … USA
---
"Purchasing this trading journal ended a 10 year search, including trying to develop my own. In my opinion this journal is flawless. Finally, I can go back and study trades I recorded and with the ability to bring up the chart for that trade is great. Thank you."
~ Bob Miller … USA
---
"For someone just starting out as a full time trader, these spreadsheets help me to develop my trading plan through showing me areas of strength and weakness in my trading, also providing me an overall snapshot of how I am tracking – Thanks Greg, this really helps."
~ Robert Allisey … AUSTRALIA
---
"This is quite simply the most effective and invaluable tool that I have ever encountered, for tracking trades and more importantly for helping one discover areas of concern and improvement. No one can afford to be without it!"
~ Michael Ward … CANADA
---
"This is the best program to easily keep a detailed log of my daily trades with support of partial fills and full performance reporting. I just upgraded to the latest version and Greg Thurman offered an absolutely flawless technical support. Thank you!"
~ John Banegas, USA
---
"Outstanding product designed to deliver exactly what a trader needs to know with minimal cost in terms of time and effort. The worksheet keeps it simple and smart while providing both a macro and micro view of the traders progress. Thanks!"
~ David Grossman … USA
---
"Thank you for your excellent spreadsheet — it's absolutely what I was looking for (yet too lazy to create myself!) — it's helped in giving a clear picture and seeing patterns emerge for my trading activity…now I have a clear idea of where I stand. Many thanks!"
~ C. Truong … CANADA
---
"This is by far the best example of a trade journal & trade review system that I have ever seen. It contains details of all of the possible mistakes that I have already made and seems to be able to identify even more of which I was previously unaware."
~ M.W. … CANADA
---
"Thanks for your help Greg. I really like the way the spreadsheet is constructed. I especially like the fact that I can scale in and out of trades, and get a visual on my equity curve. Also, the expectancy calculator is very interesting."
~ Kevin Kendall … USA
---
"If you're a gambler or trading for thrills then you don't need this. I got serious about treating my trading as a professional business and pinpointing strengths and weaknesses of my plan. This spreadsheet does this. It shines a light on the hidden aspects of the plan and exactly where things need to be changed."
~ Peter Murphy … IRELAND
---
"The more I get into the new Elite spreadsheet the more impressed I become. You have done a great job. The "Go To" really streamlines the navigation of moving from sheet to sheet in a flash. For someone that trades different markets being able to now do it all under one roof is so much more efficient. You have a great product, at a reasonable price, and with excellent support. Congratulations."

~ Robert Warren … PANAMA
---
"I really appreciate the fast turn-around / customer service experience I received after purchasing the product. I had a couple questions / issues, and they were resolved promptly. Thank you!"
~ Chris LaCourse … USA
---
"Critical investment for any trader. Very easy to manage and track important statistics in order to improve one's trading performance. Highly recommended!"
~Duane Thomas … CANADA
---
"Excellent trading journal! Easy to use, scrutinize your performance as you like, identify mistakes, solve errors, and improve your bottom line! Easier said than done, but: TradingSpreadsheets.com makes it FAR, FAR easier to achieve."
~ F.T. … USA
---
Posted on Brett Steenbarger website, (www.Traderfeed.blogspot.com), by "Jeremiah": "I've just recently started to use some of the spreadsheets at www.TradingSpreadsheets.com. I like them because in addition to setups and p&L they also track time of day, days of week and timeframe. Very useful."
~ Jeremiah … USA
---
"I have developed several trade tracking spreadsheets myself over the last few years but did not want to invest the time it would take to duplicate the TJS product. Once I downloaded the spreadsheet and got my first look at it, I knew it was a great decision!"
~ Ted Carolus … USA
---
"Excellent product, extremely pleased with the ease-of-use and well laid-out information. Thanks for a great product at a great price, am tempted to try out the Spreads tracker now :)"
~ Charles T … CANADA
---
"I just bought your Stock Spread Suite—WOW. It's lots more than I expected. I never thought there'd be a learning curve with a program designed to track your trades. I'm impressed. Thanks, Greg!"
~ Kristy Coy… USA
---
"Just wanted to let you know that the latest TJS Elite is phenomenal. I tried subscribing to some online trade-tracking sites but there's nothing like taking the time to manually record your trades to really understand your game. Nice to see the drawdown feature in there as well!"
~ Simon Smith … CANADA
---
"…I have downloaded your spreadsheet and it is working fine, I'm really happy I found it! Besides tracking my trades it is very inspiring and instructive, congratulations on your great job!"
~ R. Santos … BRAZIL
---
"Again, I can't tell you how pleased I am with your product! I have been looking for something like this for a long time. You did an outstanding job in the development of this spreadsheet."
~ Scott Schafer… USA
---
"I'm excited! I had been journaling with screenshots, a notebook, and a very basic spreadsheet. I would never have been able to develop a sophisticated series of interconnected spreadsheets like you have. Thanks! This will bring so much more awareness and informed analysis to my trading."
~ Joan Cousins … USA
---
"I really needed a capable spreadsheet program that could track my trades, but this one is more than a tracking program. It allows me to analyze my results. I really like it. Thanks!"
~ Y.K. … JAPAN
---
"Love the program! You have done a great job putting everything a trader needs all in one place!!!"
~Sanford Paulsen … USA
---
"Great product so far in the first week. Love the ability to track different "types" of trades and edges to see which are the most effective. Thanks for everything. Great support also!"
~ B.W. … USA
---
"Am enjoying using your TJS Elite spreadsheet for my Stock trades. Going to try it for Forex very soon. Great job. Love the analytics and being able to see my 'scores'. Great to keep me focused. Thank you!!"
~ Joanne Stuhmcke … AUSTRALIA
---
"Just a quick note on my deciding factor in choosing this product… it was you. Your follow ups to all my emails were really fast, and you answered all my questions. This is a fleeting commodity in today's marketplace. I think I am going to benefit greatly by the analysis features of your spreadsheets and look forward to begin tracking my trades."
~ Ken Kittredge … USA
---
"I just bought ur spreadsheets a week ago and for now I like very much. I think it's worth more then ur price, real time (and money) saver. Excellent job Greg I really appreciate."
~ T.M … USA
---
"Great value for the money and very easy to use with all the analysis that I need to improve my trading – just what I have been searching for."
~ Dr. Nicholas Cheah … AUSTRALIA
---
"Outstanding, fast and effective. Why build and attempt to grapple with Excel when it is all done for you, done right and at a price that is almost free. Thanks."
~ D.G. … USA
---
"I love your spreadsheet! I'm asking myself now how could I trade Forex without this before? 🙂 Thank you so much for making my trading life much easier!"
~ Richard Kelus … USA
---
"You've done a really great job with these spreadsheets, I'm really amazed. And I appreciate it more than most of the people because I'm a programmer" 🙂
~ Patrik Antoni … CANADA
---
"Loving it. I have three staff trying to enter all the 1,200 prior trades… The program provides fabulous statistical analysis and trends of your trades."
~ Larry Exum … Georgia, USA
---
"Thought I would tell you that I am enjoying your spreadsheet for my Options trading. Very well designed and thought out – and easy to use. Thanks, David."
~ David Webber … NEW ZEALAND
---
"I got to hand it to you. What a great spreadsheet. I just spent a few minutes on it and I am impressed. It is worth the money just to look at it and prepare the plan and the variables. Great tool!"
~ Raul Jacomino … USA
---
"Great product that is simple to use and provides easy customization of the components of your trading system that you want to track and analyze."
~ D. B. … AUSTRALIA
---
"All I can say Greg, it's very reasonably priced, it's simple to use, it's highly effective and it's just a great way to record your trades. Thanks!!"
~ Jack G … CANADA
---
"I have been using Version v6 which I found to be an excellent product, in fact it went way above my expectations, and that is why I upgraded to Version v7."
~ Derek Penny … SOUTH AFRICA
---
"So far I am impressed and really want to thank Greg for his effort to make my spreadsheet as custom as I want it."
~ Radim Frycka … CZECH REPUBLIC
---
"Now that I have familiarised myself with the program, I'd just like to say what an amazing program it is and I'm sure it will help a great deal with my trading."
~ Robert Miller … GERMANY
---
"Just wanted to say that I purchased your product this afternoon and it is fantastic. There is no way I could even come close to building something like this."
~Fred Hughes … USA
---
"I am finding it very handy in identifying my good trades and mistakes much better than I was doing. Would definitely recommend."
~ Mark Lithgow … IRELAND
---
"This is a fantastic product! Product support and customer service A+++++… Highly recommended!!!"
~ M.W. … USA
---
"I think that the product is great. The tracking is great. Also like the Expectancy and Drawdown tools. Overall – excellent product."
~ Adam Mitchell … AUSTRALIA
---
"I love it. It holds me accountable for where I am as a trader and is a personal billboard that shows me what I can do to grow to the next level."
~ R.P … USA
---
"Very pleased with this product. Just the right amount of detail and simplicity. Easy to use. Really enjoy it!"
~ Douglas Schultz … USA
---
"I really love the Expectancy tab this tab is the gold mine of the software. Great tool, it's a must for all who want to be a pro trader!!!"
~ Landon Kekuewa … HAWAII
---
"Great work on the spreadsheet! Very impressed with your commitment to support. That commitment, alone, is worth the price of the spreadsheets!"
~ M.F. … USA
---
"I've looked around at 'other' products to track my trades and keep a journal. I'm very confident that I've made the right choice. Thanks for your support along the way and answering all my questions, I appreciate that you're there to support your product."
~ Mike Oliver … USA
---
"Thanks so much Greg. The spreadsheet works perfectly. Your products and service are awesome – keep up the good work."
~ Tanya Henry … USA
---
"Great product! Saved many 100's of hours to create a spreadsheet like the one purchased. And as we all know, time is money."
~ K. A. … HUNGARY
---
"Thank you for a fabulous and well thought out spreadsheet and web site which will tell me all I need to know about my trading strategies. Cheers, Steve."
~ Steve Clay … AUSTRALIA
---
"Great product Greg. Worth every penny and I've only started using about 50% of the features. Just what the doctor ordered."
~ Jon Pam … AUSTRALIA
---
"Terrific product!…love that it works on both mac and windows and would recommend it to anyone!!"
~ Timothy McHugh … USA
---
"Really good layout ideas and functionality. I really like the great support, and that you're open to suggestions."
~ K. M. … USA
---
"I think this spreadsheet is great, and in fact it has already helped me focus my trading more in just one day of use."
~ C.G. … CANADA
---
"I am new to trading and this money management system fits right in with what I was taught to track. Thank you."
~ D. Nickel … USA
---
"Just finished my books for the last 2 weeks. I can't thank you enough for how simple you've made analysis for me."
~ Zac Putnam … USA
---
"Very powerful, I enjoy. I purchased because it's exactly what I've wanted to do since several years, but not with your success. Congratulations again."
~ Clip Franck … BELGIUM
---
"This is a great spreadsheet!! I am tweaking my trading plan and the spreadsheet has streamlined that process."
~ Jose Noriega … USA
---
"Wow! Everything I need and have been looking for in one package. I wish I would have found this product sooner!"
~ David Carlson … USA
---
"Greg, thanks for the help. Love your work, it is a tremendous timesaver and provides great insight to my trading."
~ Dwain Farley … Texas, USA
---
"This trade tracking spreadsheet is one of the most useful money management tools I've found at any price."
~ Fred Esch … USA
---
"The best spreadsheet specifically designed for traders I know of, enjoyable to use and truly time saving!"
~ M. Lovett … UK
---
"Very useful, the more I explore it the more I like it. Thanks Greg!"
~ Ray Germaine … USA
---
"Great product Greg, very easy to use and is of vital importance to new traders to track their progress."
~ G.L. … AUSTRALIA
---
"Impressive service, the best I've ever received. Many many thanks for your invaluable help."
~ Wayne C. … UNITED KINGDOM
---
"Significantly surpassed my expectations! Very very high quality spreadsheet! Love it."
~ Omar Ignacio … PUERTO RICO
---
"Spreadsheet exactly as described, nicely done. Well worth the price… Thanks!"
~ Doug Forman … Washington, USA
---
"Man!! Sweeet SpreadSheet! Never a fan of SS, but this one rocks for trading! Awesome svc2."
~ DJ Blackford … USA
---
"This sheet you have put together would be a great value for money at twice the price!!" 
~ Nick Rayne … GERMANY
---
"O my god, this is extra ordinary high level thinking. This is best ever journal." 
~ Abdul Soomro … Ontario, CANADA
---
"I've been able to double my account studying the spreadsheet results alone and wanted to thank you!"
~ G.V. Bogota, COLOMBIA
---
"Teriffic spreadsheet! Very user friendly, easy to use and powerful tool to effectively track my trading."
~ Mark D'Ascenzo … AUSTRALIA
---
"Excellent trade tracking program. I have tried three others, TradingSpreadsheets is the best. Support is excellent."
~ Robert Hemingway … USA
---
"I love your spreadsheets and I have been looking for exactly this type of product for some time." 
~ Dennis Mojares … USA
---
"Impressive, I'd have to give up trading to construct a spreadsheet this good." 
~ Peter Murphy … IRELAND
---
"Very excellent program, worth a lot more than it costs. Thanks Greg." 
~ Rodney Daniels … Pennsylvania, USA
---
"The 'Bonus' material alone is worth what I paid, let alone your tracking program." 
~ J.V. … Ontario, CANADA
---
"Hi Greg, Well done on a excellent spreadsheet. It's brilliant. Worth every cent." 
~ Monty Gadd … SOUTH AFRICA
---
"Good instrument that helps to be firm on the trading plan."
~ Marion Resescu … Breaza, ROMANIA
---
"Great Journal. Excellent Set up. Will recommend to other traders."
~ Verlin Sanciangco … USA
---
"This spreadsheet is excellent! Does everything I can think of thus far…"
~ M.O. … London, UK
---
"Very useful spreadsheet and good value for the money."
~ Damien Foley… Dublin, IRELAND
---
"I am glad to see Van Tharp's R multiples and position sizing!"
~ R.V. … USA
---
"Simply awesome is an understatement!"
~ Randy Dillon … Tennessee, USA
---
"Extremely comprehensive log. It covers everything."
~S.C. … St. Louis, USA
---
"Product is exactly what I was looking for"
~ R.R. … Sydney, AUSTRALIA
---
"It's a superb product. Nothing else like it out there."
~ M.L. … USA
---
"Thanks… I love your product." ~ Tim McHugh … Washington, USA
"Very comprehensive, exactly what I need."
~ V.S. … Florida, USA
---
"A superb product and exceptional value!"
~ P.S. … London, UK
---
"Easy, casual, professional – very contemporary – no b.s.!"
~ John Stearns … Idaho, USA
---
"Beautiful Product!"
~ Crispian Ho … SINGAPORE
Let's start Analyzing your trades, shall we?